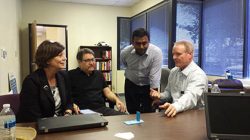 Do you have business experience and want to "pay it forward" by mentoring some of our incubator companies? Are you a retired executive or a specialist in a certain area that can help our entrepreneurs work through challenges?
We are looking for people with legal, accounting, marketing, human resources, and science backgrounds (to name a few) who would like to spend some of their time collaborating on topics that can have significant effects on society.
If you want to learn more about genomic sequencing, precision medicine and agriculture, or just looking for some extra juice, our incubator companies will definitely trigger some synapse action!
We are especially interested in mentors who have been through a startup before. If you are that person, we want to hear from you!
Thanks for reaching out, and we will get back to you within 48 hours.