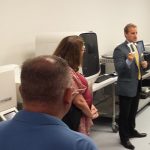 The genomic sequencing market is on fire. Companies are being formed and sold like hotcakes. If you have discretionary money looking for early stage opportunities, let's talk. Murrieta Genomics is offering membership interests in our company, offering investors a chance to be part of the genomics revolution in a new and exciting way.
Our hybrid business model of generating sequencing revenue to cover operational costs while incubating the next biotech companies offers a unique chance to get in early on promising deals while knowing that your money is always working for you.
This is an excellent opportunity to get eyes on promising early stage tech companies and have first shot at next stage financing when our incubator companies meet their milestones.